Details
Please note that the plug is European plug
Model

Rated power

Inlet/Outlet

Max flow

Max head

Voltage/Freq

w

IN

l/min

m

V/Hz

RS20/6

93/67/46

G 1 1/4''

53

6

220 50/60
Application:inline water pump
Used in Suitable for city buildings, suburban villas, houses, water and pressurized with industrial equipment, air conditioning, boilers, solar circulating water, hot water circulating warm and so on.
Advantages:
No leakage, low noise, environmental protection, aesthetics, ease of installation and so on.
Features:
High temperature resistance, antifraying,long life, full-automatic, maintenance-free, super silent, leak-tightness, high efficiency, low consumption, high flow and convenient installation advantages. Built-in high sensitive electronic sensors, the water will be flow when we open the switch.
Performance Data:
1). Suitable for medium: hot water and ethanol maximum ratio of 1:1
2). Performance:

Liquid temperature range -10 - +110

Maximum working pressure 10bar
3). Ambient temperature: not higher than 40
4). Power :

220V

, frequency

50/60Hz
5). Motor: Protection class IP44 Insulation class F
6). Material: cast iron, PP, ceramics
7). Mounting position: Shaft horizontal mounting
8). pump settings: single-phase pipeline pump

3-Speed controlled

single-phase motor is not overloaded casting pump length 180 mm 130 mm
This is just the installation drawing, not the picture of product.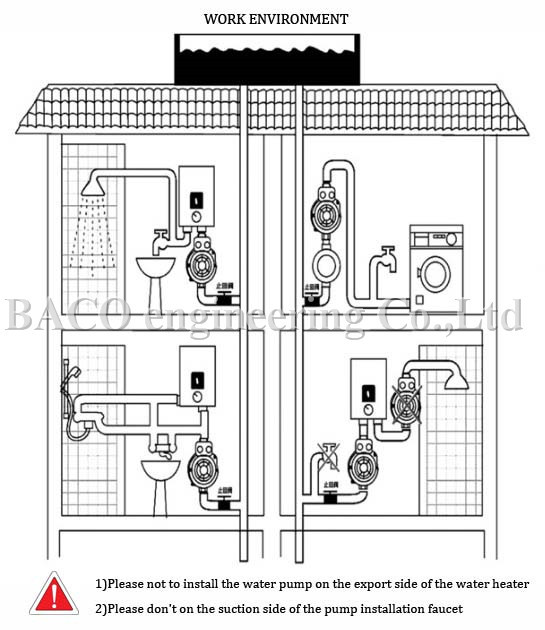 Additional Information
| | |
| --- | --- |
| package | N/A |
| the_size_of_solar_panel | N/A |
| the_battery | N/A |
| the_power_of_pump | N/A |
| max_flow_quantity_of_pump | N/A |
| max_water_height_of_pump | N/A |
Didn't Find What You Want?
to download our catalogs to find more products!
Or
to tell us what you want or get retailer's price!
Distinguished customers, welcome and thank you for choosing our website for shopping.
If you have any queries or issues on how to navigate the website, please check our

FAQ

section. In this page, you will learn how to shop, how to remove items, how to add quantity, etc.

If you want to know more details about our products, plaese refer to our Blog. You can find several useful videos, articles and related content addressing different issues like "how to install a submersible pump in a deep well" or "4 common signs of inefficiency in a self-priming pump". Videos and articles will help you know more about the products, as well as the industry.

If you have any particular or singular need or inquiries about a customized order, please view our OEM services and contact us.

For any additional queires, please visit the links at the bottom of the page or Contact Us via email or leave a message.
Be the first to review this product
@2014 BacoEngineering.com. All Rights Reserved